Dark Frontier is an upcoming spaceship combat simulator in the Dark Horizons series of video games, under development by Max Gaming Technologies.
The game is being developed using the Torque Game Engine Advanced and much of the codes from Lore: Aftermath.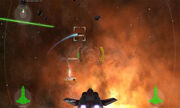 According to a prototype gameplay video and information released by MGT, the game looks like it will play as a flight combat simulator, with the player controlling a spaceship fighter, and fighting against other players in multiplayer, or completing mission objectives in single player and multiplayer. By completing mission objectives and winning battles, the player helps his faction gain influence in the area that he is playing in, similar to the ComCent in Dark Horizons Lore. Winning matches also helps the player unlock new equipment and upgrades for his fighter.
Online Multiplayer will be playable with up to 64 players.
All that is known of the game's plot, currently, is that is is set in the storyline of the Dark Horizons Lore series. Seemingly, it might be set somewhere around the time of Dark Horizons Universe.
Development
Edit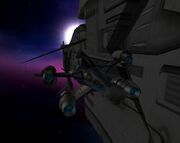 Frontier was first announced by MGT's Ed Gardener, in July 2005, as an upcoming space-themed game set in the Dark Horizons Lore series.
The game is being developed using the Torque Game Engine Advanced, using a lot of code from Lore: Aftermath (hence some of the similarities in graphics). A ready prototype, showed at 2010's GDC (Game Developer Conference), was developed in a few weeks (since most of the code was already done in Aftermath). A playable demo of Frontier was showcased in Green-Ear's 2009 contest, where MGT won a 1000$ prize.
External Links
Edit
Community content is available under
CC-BY-SA
unless otherwise noted.