This Article, is about the MMORPG. For the d20 tabletop RPG of the same name click here.
Dark Horizons Universe

Release Date
n/a
Platform(s)
Microsoft Windows
Developed By
Max GamingTechnologies
Genre
MMORPG
Gameplay Modes
Online Multiplayer
Series
Dark Horizons
Engine
Multiverse
Dark Horizons Universe was an MMORPG under development Max Gaming Technologies. It was first announced some time after the release of Dark Horizons Lore: Invasion, as an expansion to the Dark Horizons Lore series. Since 2009, there has been no word or update on the game, so it is to be considered stuck in development hell.
The game was meant to be run on the 'Multiverse' Virtual World system.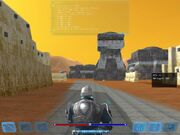 Based upon several screenshots and a gameplay video released, Universe appeared to play as most MMORPGs. The player character seems to have been controlled by mouse clicking on your destination.
Players could talk to NPC characters, engage in combat with other players and NPCs and do quests for NPCs. The game also featured flyable dropships, as vehicles. There seemed to be 3 different categories for weapons - rifle, sidearm and sword. Players could also customize their type of attack, from close combat, to semi-automatic fire, to automatic fire. Adrian Wright has said that the game was also going to have a player-driven economy system, a political faction system and a skill system.
According to an interview with Adrian Wright, Universe was to be set on a colony on Mars, probably during the as time as the d20 game.
Development
Edit
Dark Horizons Universe was one of the earlier titles (along with Lore) to be under development in the Dark Horizons series, originally under the title "Dark Horizons: The Awakening", using the Multiverse Virtual Worlds engine.
Several screenshots and a gameplay trailer have been released online, and were showcased at 2007's GDC (Game Developer Conference).
On November 24, 2009, Adrian Wright states that he still intends to work on Universe. Other than that, there has been no update or statement regarding the game, so it is considered to be stuck in Development Hell.
d20 Tabletop
Edit
In Spring of 2006, a tabletop game, using the d20 modern role playing system, was released under the same title as Universe, however it is unknown if the game is a d20 adaptation of Universe (similarly to how the Lore d20 game is an adaptation of Lore) or if it's an unrelated game, simply with the same title.
External Links
Edit